Welcome to the indulging ONQ Live Entertainment Blog. In this exclusive content, we will share interviews with our crew and corporate partners, as well as give you lucky readers a behind the scenes look at our events with photographs and videos you will never see anywhere else.
By now, since you've made your way to the ONQ blog, you might have had a glimpse at our website. You've listened to our musicians and got to know the professional introduction of who we are and what we provide. But how did ONQ Live Entertainment get started? What inspired the growth of this arts-infused corporation? We got the answers.

The story with any chapter begins with one person. In this case, our main character is world established Toronto percussionist and our creative director, Marko Bongo, who started excelling in music techniques at a young age.
Having been born in Montreal, Canada of Armenian decent, then moving to Casablanca Morocco at a young age, Marko was always exposed to music since he was a toddler. His father being a drummer as well as his grandfather who was also a musician himself (playing the accordion and piano), he was accustomed to playing around with the instruments readily available to him in the household, but he always had that inborn rhythm even at an early age.

"When I was a baby I would naturally go and hit the pots and pans. My parent told me that when I used to hit them, there was an evident beat coming out and not just noise)," explained Marko.
As a child, he would remember his father showing him the basics of drumming and musicianship, however a lot of his knowledge was incorporated to networking and being exposed to different cultures and drumming styles and beats from around the world. The moment he had his first interaction with a drum, he knew that it was natural for him to play it.

It was not until shortly after university where Marko Bongo started flourishing in the music industry.

"When I was going to York University, some of my friends were promoters for downtown entertainment venues and always knew that I was a passionate drummer. They called me and asked if I was able to play drums "freestyle" over the DJ's dance/house music song selections at their venue. At the time I didn't have an artist name and was referred to simply as 'Mark the Bongo Guy.' People eventually started calling me 'Marko' because they thought I was Italian (I am of Armenian decent). As time went on, I was performing at one of the parties downtown and someone just shouted out, 'Eh, it's Marko Bongo!' After that, people started calling me that and it just stuck. I thought it was kinda catchy, and I liked how it rolled off nicely," he said.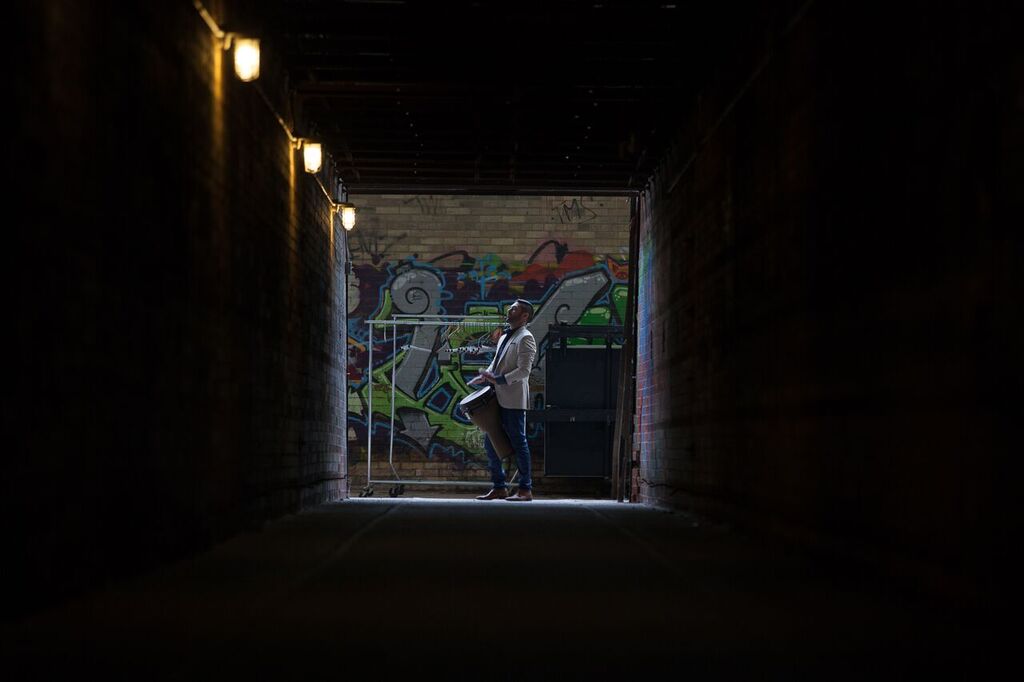 If you've been known to the local nightlife of our bright-lit city, or had the privilege of having Marko Bongo at your event(s), you might already know the talent infusing throughout every sound, beat and rhythm in his ecstatic live percussion sets.

In the early year of 2010, Marko Bongo co-founded Bongo & ­­­­­­­B Entertainment, a company Marko jointly created with a distinctive niche market within the wedding industry. After 5 years of establishing Bongo & B, Marko decided to move on and was fueled and motivated to create something beautiful and much different than just a standard live entertainment company.

The birth of ONQ (pronounced "ON-Q") Live Entertainment began through a thought of wanting to create a culture within the immense talent this lively city of Toronto has to offer and represent them professionally. Many musicians have such amazing talent, however can use some help in their marketing and business aspects while interacting and communicating with clients eventually leading to more opportunities to enhance their music careers. ONQ strives to bridge this gap by representing and connecting incredible local and international talents to perspective clients.

"There are so many amazing musicians but many have some challenges representing themselves in the market to their full value potential. My goal is to brand and market their talents and present them to my existing client portfolio and also make them visible through my advertisements for future opportunities. The importance of professionalism plays a big part of what we represent. So when I deal with clients and you get booked, you need to be professional at every level; dress, image, conduct before, during and after the performance etc. It's that fusion of musicianship, image, professional conduct and global and ethnic diversity that makes up our DNA," said Marko Bongo.

On the ONQ Live Entertainment website, you will be disclosed to a diverse list of talented musicians as part of the ONQ Crew. These individuals were brought together through Marko's network in the music industry over the years and the crew is ever growing.
But what exactly does ONQ offer to its musicians?

"Aside from booking Live Entertainment, ONQ relieves the musicians from the stresses of the actual business transaction and business involvement of securing the gig and completed the gig formalities (negotiations, administration, site visits, set-up and tear down)," said Marko. "It's a service and a solution for musicians to get compensated properly and have professional representation in the eyes of the client, which also increases their value as a musician as well."

We know about Marko Bongo's background and how his ONQ idea is at its peak of evolving. But who else is involved? What do ONQ artists say about this opportunity? Why would clients be attracted to ONQ?

This is just the first chapter of our story. We have a long journey ahead of us and the progress has been outstanding. Be a part of this adventure and expose you to our music, our networks and our culture.

Until next time on ONQ…
ONQ MISSION: WE THE ONQ CREW ARE A DIVERSE COLLECTION OF WORLD-CLASS LIVE ENTERTAINERS, GATHERED FROM AROUND THE GLOBE WHO ARE BASED IN THE MELTING POT CITY OF TORONTO. ONQ WILL INFUSE YOUR EVENT WITH TRENDING SOUNDS & SIGHTS, PRODUCING WOW MOMENTS FOR YOU AND YOUR GUESTS. ONQ FOUNDER: MARKO BONGO ONQ CREW: ONQ BIG BAND, ONQ BIG SAX, ONQ BONGO, ONQ BONGO DUO, ONQ MARKO BONGO, ONQ COLLECTIVE, ONQ EAST, ONQ EAST WEST, ONQ FLAMENCO, ONQ MIAMI, ONQ MOD SAX, ONQ POP, ONQ STRINGS, ONQ STRINGS DUO, ONQ SULTAN, ONQ UNPLUGGED, ONQ VIO, ONQ VIO DUO, ONQ WEST, ONQ VIO BEATS ONQ GENRES: JAZZ, POP, FUNK, SOUL, HIP HOP, DANCE, HOUSE, AFRO CUBAN, ROCK, CARIBBEAN, FLAMENCO, BIG BAND, WORLD, SOUL, LATINO, CLASSICAL, GOSPEL, REGGAE, MIDDLE EASTERN, AFRICAN, TOP 40ONQ SOLO: VIOLINIST, SAXOPHONE, PERCUSSIONIST, PIANIST, GUITARIST, TRUMPET, VOCALIST, CELLO, BASS, VOCALS MALE, VOCALS FEMALE ONQ LIVE ENTERTAINMENT OPERATING UNDER DIVISION OF ON-Q ENTERTAINMENT INC. ONQ CONTACT INFORMATION SUITE 125, 4936 YONGE STREET TORONTO ONTARIO CANADA M2N-6S3 TELEPHONE 1.888.ONQ.1745 EMAIL INFO@ONQ-LIVE.COM WEBSITE WWW.ONQ-LIVE.COM HASHTAG #ONQLIVE